Sri Ramanujamji's Satsangs In Singapore
The benign grace of the ever-compassionate divine couple Sri Madhuri Sakhi sametha Sri Premika Varadan Thakurji, and our beloved master Maharanyam Sri Sri Muralidhara Swamiji, was perceptible, even more so, as devotes in Singapore were blessed with a ten-day blissful visit of Sri Ramanujamji from 25-May to 4-Jun, 2019.
Sri Ramanujamji's programs, so versatile as he is, were well-suited to inspire a wide spectrum of audiences, by age & interest, be it his semi-spiritual talks on positivity, corporate training sessions on happiness & leadership, adorable interaction with gopakuteeram children as well as guidance to parents on positive parenting.
He started off the visit on a very positive note, by giving an inspiring talk on "Positivity" organized by Singapore Malayalee Sanga on 25-May. About 60 people participated in the session. He mentioned about the PREMA model for positivity, and stressed on how one should try to stay positive and happy as it is a choice we can exercise by constant practice. Being in the company of positive people and consciously remembering to register positives aids in our progress. He also explained the differences between needs and wants and how understanding our own needs, and making an effort to differentiate between a need and a want helps us in the path of happiness and positivity.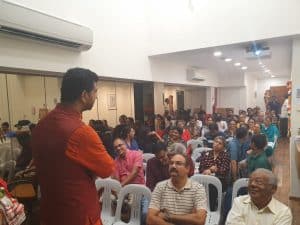 Sri Ramanujamji, in his lectures encouraged everyone to learn & read Srimad Bhagavatham and also conducted a beautiful session to students learning Bhagavatham from Purana Ithihasa Tutor.
During the week of 27-May, Sri Ramanujamji also conducted a few corporate training sessions on happiness at work and situational leadership to employees of a couple of firms. The trainings were tailor-made to suit the requirements of customer facing employees as well as mid-to-senior level managers. The sessions were very interactive, and received a lot of positive feedback from employees.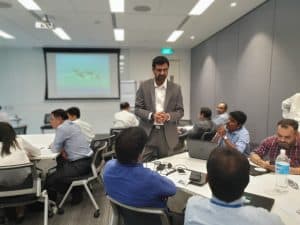 Devotes were also blessed with satsangs at Namadwaar on the nama anthem "Kaliyayum Bali Kollum" – Sri Guruji's blissful outpour on why & how "Nama" is the most apt, enjoyable and simple path and way of life in the present times leading one to happiness and divinity. Sri Ramanujamji expounded each verse and illustrated the various meanings, intricacies and "bhavams" in each verse. As an example, it was so enjoyable to note why Sri Guruji chose to put "Pandithan mudarkondu, paamaran varaiyilum" and not "Paamaran mudarkondu, pandithan varaiyilum" first, exemplifying the universality, greatness and capability of nama that if it can uplift the most learned & knowledgeable, then will it not uplift all others?
On 2-Jun, Sri Ramanujamji, gave a talk on "Ancient Wisdom & Timeless Happiness", presenting priceless thoughts & words of wisdom from the hearts of our rishis. The talk touched various themes, and he beautifully interweaved & stitched together knowledge from many scriptures such as Ramayana, Srimad Bhagavatham, Upanishads and offered it to a spell-bound audience of over 100 people in a 2-hour time slot. Some key themes covered were destiny versus self-effort, how earnest prayers can even defy destiny, power of faith & prayer, our innate nature as Ananda etc.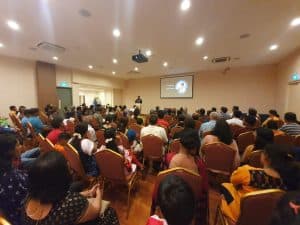 The crowning glory of the 10-day visit was the "Radha Kalyana Mahotsavam" on 1 & 2-Jun – a very blissful 2-day celebration of the divine marriage of Sri Madhuri Sakhi sametha Sri Premika Varadan Thakurji, at Namadwaar. The 2-day celebration was most enjoyable and about 50-60 devotees participated and enjoyed the singing of "Ashtapadis", Madhurageetams, "Abhangs" "Divya namam", namavalis etc.  Namadwaar was "Golokam" and all the devotes became the gopas and gopis of Vrindavan enjoying the sweet smile and grace emancipating from the lotus face of Sri Premika Varadan Thakurji.